Each heart-bird of mine
Is a passport to the world
Of peace-blossoms.
-Sri Chinmoy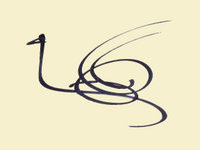 Last night a little miracle happened in my living room. I had returned from a few days of spiritual retreat and was trying to remember where I might have put a note written on a small piece of paper. I walked across the room over to where I have some files of papers, etc. and as I walked past some files stored vertically in a wire basket bought at an antique show, I looked down from above it and saw a square piece of paper inside a file folder slightly gaping open. I reached down thinking it was the note I needed.
What that paper turned out to be instead was a small original Jharna-Kala bird drawing by Sri Chinmoy done on a square piece of paper embossed with floral textured edges. In the middle was a soul bird drawing – on the right a long bird and as if tucked under its wings, two smaller birds facing the bird on the right. To the right of the birds was CKG – the form Sri Chinmoy used when signing his paintings. CKG for his full name – Chinmoy Kumar Ghose.
Sri Chinmoy drew millions of birds. When asked why he favored this theme, he said:
I am a man of prayer and meditation. For me, birds have a very special significance on a spiritual level. They fly in the sky, and the sky is all freedom. So when the birds fly in the sky, they remind me of the soul's infinite freedom. The soul has come from Heaven. When we think of birds, we are also reminded of our Source, and this gives us enormous joy. I feel that if people come here to view these birds, their inner hunger to fly in the sky of infinite freedom will be fed.
Sri Chinmoy Answers, Pt. 3

No one was more surprised than me to find a Jharna-Kala bird drawing loose inside a folder labeled Christmas Trip Information. While I am pretty disorganized when it comes to papers and their tidy upkeep, it still seemed a remote possibility to me that I would have misplaced a Jharna-Kala bird drawing lost and forgotten in a folder for how long I cannot even remember.
I felt as if I had just found a rare and precious treasure. And I smiled because it felt as if God Him/Herself was talking to me with the sudden appearance of this original bird drawing by Sri Chinmoy. At the Sri Chinmoy Centre spiritual retreat I had just returned from, it was a tradition to have a sideshow as part of an amateur circus complete with prepared food and all manner of items for sale. Sri Chinmoy would bless certain purchases as part of the festivities. One area of sideshow included some of his art prints and original bird drawings and he would sign them with one's name, etc. upon purchase.
Since this year was the first sideshow since Sri Chinmoy's passing last October, I was lamenting that this special part of that tradition would never happen again. Even more so, I was thinking that there would never be another bird drawing or painting created by Sri Chinmoy. Granted, he drew literally millions of soul birds so it is not as if we weren't blessed with a vast expanse of his artwork. Yet to me it still felt sad.
When I found an original bird drawing that I do not remember even owning, it seemed that my lamentation was hardly unheard or missed. Finding a bird drawing peeking out of a file folder of papers in the room adjacent to my living room made it seem as if a new bird had been created since Sri Chinmoy's passing on October 11, 2007 after all.
I will certainly treasure this particular drawing with its air of mystery and miracle surrounding it. Most of all though I will treasure the keenness with which God seems to hear our every little thought and the kindness with which He responds to soothe our pangs of sadness.
Download Sri Chinmoy draws soul birds in Guatemala in 1997. Video by Kedar Misani, SriChinmoyTV.
See also examples of his acrylic paintings.
The human artist in me says:
"What is finished is finished.
What is complete is complete."
The divine Artist in me says:
"Nothing can be permanently finished,
Nothing can be completely complete,
For in the inner world
Today's destination and
Today's perfection
Are the starting points to embark on a new journey
And to see the face of a new dawn."
Here comes the message of my Art:
Self-transcendence is the life,
Heart, breath and soul
Of my Art.
-Sri Chinmoy in Sri Chinmoy Answers, Pt. 3
Photo of Sri Chinmoy by Kedar Misani.