While I waited for an April 1st election to determine the continued existence of my public library job for the last 14 years, I employed every possible way known to me to help minimize my undeniable stress and anxiety about my job. I spent more time than ever in meditative practise and keenly felt my meditation teacher Sri Chinmoy helping me inwardly. I tried to remain detached yet proactive if I needed to spring into gear for a new job and possibly even a new career.
Somewhat prone to worry in spite of my best intentions, one night I fitfully fell asleep only to then dream of powerful soothing guidance as I was surrounded by flowers – especially white hydrangea- which I later learned could be found in abundance lately at the Sri Chinmoy Centre meditation grounds I frequent in New York.
The big surprise in this dream, however, was that I heard I should drink lavender tea to calm my nerves. I woke up slightly puzzled. I certainly had heard of lavender's properties for reducing stress and anxiety, but I had never heard of drinking lavender flowers. Was there really such a thing as lavender tea? Quick Internet research showed me it certainly is also drunk as tea. Gail Kavanagh explains that "Drunk as a tea, lavender is a natural treatment for anxiety and headaches" in her article The Healing Powers of Lavender at DoItYourself.com. Lavender contains many healing properties and was widely used in the Middle Ages for medicinal purposes. Lavender has antiseptic properties, aids in healing of scar tissue, soothes bites and burns, repels insects (used to ward off the plague in the 1600's), aids sleep and is anti-depressive.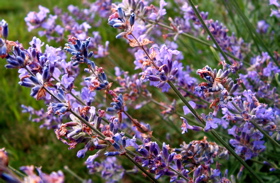 Excited to take this prescription for calm that I received in a dream to heart, now I just had to find lavender tea. I succeeded in buying two teas that included lavender in them at a local supermarket that includes a large natural foods and specialty item selection.
One organic spearmint lavender tea that lived up to its name "Charm" from Treleela contained a very clever tea bag that opens up and rests on the cup in such a manner that it is as if the tea is infused as loose leaves instead of in a traditional tea bag. The company is based in Chicago but the tea is grown in the Himalayas in India. Here is a picture of the tea bag inside a Jharna-Kala mug inspired by Sri Chinmoy's artwork.
I am indeed a newfound fan of lavender tea and everything lavender scented. When the lavender growing in my yard blooms this summer, I will view it with a renewed sense of appreciation and respect. Lavender's healing properties have been used for centuries and I salute the power of this tiny flower. And I am humbly grateful that the powers of spirit intervened in my life in such a detailed and loving way – like a kindly Grandmother – telling me to drink a hot cup of herbal tea to infuse my life with greater happiness.