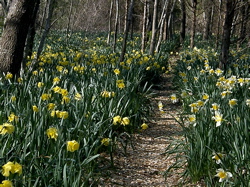 The bridge over the Padanaram Harbor in Dartmouth, Massachusetts was closed and the bridgekeeper was motioning cars to go around rather than wait. I was on a dinner break from work and in the spirit of seizing the moment decided to visit the Daffodil Reserve owned by the town's Department of Natural Resources Trust. I was bound and determined to still take this field trip and get back to work in one hour flat. So I dashed off down the road through the scenic and quaint environs of New England coastal charm.
Flowering trees serenaded my eyes. Tulips and daffodils were blooming in yards. Leaves were almost budding on trees. I was treated to Spring in all its glory as I drove to Parson's Reserve on the edge of the Russells Mills national historic district in Dartmouth. I lost some precious time not taking the bridge over the harbor but still managed to make a short pilgrimage to the daffodil field at the top of a hill and at the end of a path through the woods.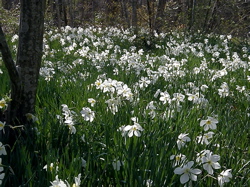 Last year I visited the daffodils for the first time and was sorely lamenting that this year's blooming coincided with me being sick and not up to making field trips through the woods. I knew that the daffodils would be finished soon and as quickly as my health permitted, I made a beeline to this vista.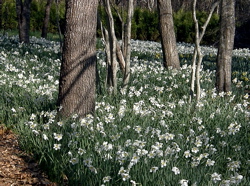 A field of flowers as far as the eye can see is a heady bouquet for the heart to savor. Even a short visit enchanted me and I marvel at the enduring quality of cheerfulness and sunshine embodied in this flower family.
William Wordsworth wrote a famous poem about daffodils in 1804. It expresses perfectly the sentiment found in feasting upon Dartmouth's daffodil field in full blossom.
I wandered lonely as a cloud
That floats on high o'er vales and hills,
When all at once I saw a crowd,
A host, of golden daffodils;
Beside the lake, beneath the trees,
Fluttering and dancing in the breeze.

Continuous as the stars that shine
And twinkle on the milky way,
They stretched in never-ending line
Along the margin of a bay:
Ten thousand saw I at a glance,
Tossing their heads in sprightly dance.

The waves beside them danced, but they
Out-did the sparkling leaves in glee;
A poet could not be but gay,
In such a jocund company!
I gazed—and gazed—but little thought
What wealth the show to me had brought:

For oft, when on my couch I lie
In vacant or in pensive mood,
They flash upon that inward eye
Which is the bliss of solitude;
And then my heart with pleasure fills,
And dances with the daffodils.
-William Wordsworth