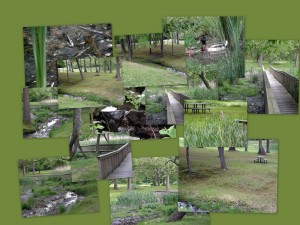 Last Tuesday, I headed out of the house to take a quick stroll before finishing up preparations to leave for work. I did not have much time left before leaving for my 12 noon starting shift. I really wanted to take some exercise regardless and headed out the door in the opposite direction of my usual routes in the neighborhood.
That cramped schedule ended up leading to a delightful discovery. I walked towards Veteran's Memorial Parkway, a roadway alongside a bike path, a short distance from my house. Since cars go zooming by on the Parkway, I don't typically think of walking towards and beyond that road.
Today, however, I found myself coming out to the parkway from a street that showed a little park with picnic tables, grills, etc. directly on the other side. I glanced at my watch and decided that I had enough time to go exploring.
A little brook with a wooden bridge over it beckoned and a small pond past that had an abundance of frogs inside it. Just past the pond, a trail led into some woods and off I went. I wondered if this woods eventually led to the East Bay Bike Path since I sometimes walked in the woods adjacent to that path.
I came upon another little stream with a log over it for crossing and just then a woman and her two cute dogs came from that direction. I asked her about this woods and she said she thought it was Squantum Woods State Park along with some of the Exxon Mobil woods land that they have near where the ships unload oil.
Satisfied to know what I had discovered, I turned back for home and a mere fifteen minutes later was back at my house to shower and dress for work.
I marveled to find somewhere new to explore so close to my house, in a short window of time carved out before going in on a late shift day of work. I also felt a little embarrassed that I have lived here for 10 1/2 years and never noticed Squantum Woods before. It served as an important reminder that beauty and divinity are often right under our nose. We only have to open our hearts to see it and remember that with a spirit of intention we can always carve out time for what we value.
Here is a poem I wrote recently for Panorama, an anthology of poetry written by students of Sri Chinmoy. Its theme resonates with my experience of carving out time to walk that morning and find something new.
Divinecarving
Carve out time
from the Sun's
fleeting face.
Carve your place
at the table
of grace.
Carve a map
your spiritual
life can trace.
Carve
G
O
D
in your heart's
deep embrace.
-Sharani
I went back to Squantum Woods with a camera on my next day off of work a few days later. I measured that it is a mere half mile from my house and I did follow it out to the bike path. It comes out near the Squantum Association Private Club and offers a view from the opposite side of a small cove that I have photographed a gazillion times from the opposite side. Here is a slideshow of a few of the photos I took at Squantum Woods: