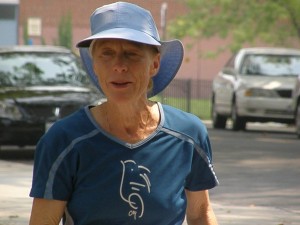 Last night I watched a fantastically inspiring documentary about one of my all-time heroes, a record-breaking multi-day runner named Suprabha Beckjord. A gift shop owner from Washington, DC, she has run in the Self-Transcendence 3100 mile race every summer for the last 12 years and is:
*the only person to finish the race every year it has been held.
*the only woman to ever compete in the race.
*the only American to run the race in a field of 14 people from around the world last year in 2008.
This monumental race held over a 51 day period in Queens, New York is the longest certified road race in the world and is hosted by the Sri Chinmoy Marathon Team.
The Spirit of a Runner is a documentary about Suprabha's ultra-running career – especially her years of participation in the 3100. The film also offers a window into the race itself and the inspiration from the Marathon Team's founder Sri Chinmoy.
This film by Jessie Beers-Altman, a student at the Boston University College of Communication, won third prize in one of the divisions of the Redstone Film Festival in 2009. Here is a trailer to the film on YouTube:

I was so inspired by this film that it brought me to tears while watching it. The next morning I woke up full of enthusiasm for life in general and for being a part of the Sri Chinmoy Centre in particular. It translated into a marathon-length (for me!) session of meditation where our centre gathers in Queens, New York. I meditated at home starting at 5 am then continued at the outdoor meditation area we call Aspiration-Ground from 6 to 9 am. The meditative morning brought a harvest of joy, gratitude and peace. Now some might say why didn't the film inspire me to get up early and go running instead of to sit and meditate? I can only answer – good point! Maybe tomorrow it will energize my athletic activities instead of my meditation.
Related: Photos I took of Suprabha on the race course during the 2007 3100 Mile Race.