Drop In and Decorate Cookie Party in Dartmouth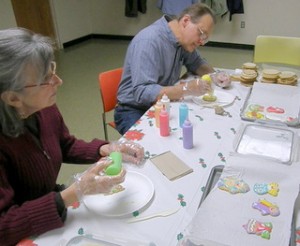 The public library where I work in Dartmouth, MA hosted our first  "Drop In and Decorate" cookie donation event recently. Local high school honor society students attended along with members of the community.
The concept is simple but the results are sweet. Bake sugar cookies in advance in a variety of shapes and sizes with cookie cutters and make royal icing tinted a rainbow of colors. Then gather together for a cookie decorating party with the purpose of donating the decorated cookies to a local food pantry or other social agency in the community.
Shortly after our event, library staffers delivered the cookies to the Council on Aging (just down the road from the library) as addition to the festivities of  their annual Christmas Dinner and Party at the Senior Center. They decided to save them as dessert after eating the meal first so we had gone back to the library before the first bites.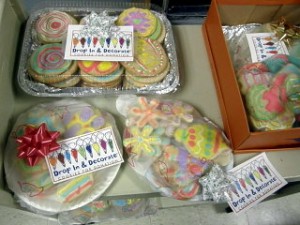 One person on the website for Drop In and Decorate calls it "cookie love" because it is a unique way to offer goodwill to others. I found that holding the event during the season of giving also really "helps to make the season bright" for both the giver and receiver.
The cookies themselves ended up getting decorated in creative and artistic ways. The students started decorating the cookies with words such as hope and peace. They made peace symbols and smile faces on the cookies.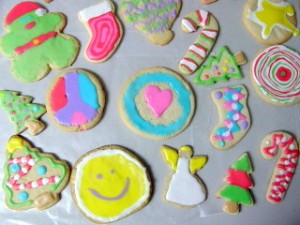 Apparently the ghosts of Woodstock past have landed in the hearts of these youngsters born long after the flower power era had faded into a memory.
This cookie donation event epitomized Christmas for me and I certainly hope the seniors enjoyed their helping of cookie love served to them at the Council on Aging holiday party.
The concept of Drop In and Decorate was started by a Rhode Island professional food blogger/writer named Lydia Walshin. It started small but has really caught on and cookie events are happening all across the country in numerous venues. Not too long ago, the total number of cookies donated in this way crossed the 10,000 mark! Because I live in Rhode Island, Lydia was kind enough to even lend me some of the supplies which helped to make our event a success.  She is certainly the "main ingredient" in the overall organization's recipe for success – recently evidenced in its designation as Rhode Island Monthly Magazine's Best Culinary Cause Award for 2009.
An online version of a newspaper article covering the event is available and here is a slideshow of photos from the event: