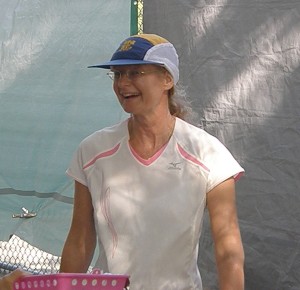 Surasa Mairer, a 51 year old ultra runner from Austria, runs circles around the competition. Backwards and forwards she forges new territory for women runners and shows women and men alike new horizons of possibility.
She runs backwards and forwards literally. She set 4 world records by running backwards (retro-running). She was the first woman in the world to backwards run a half-marathon, marathon, 10K and 5K race.
Her first marathon backwards was in 2004 at an event called Impossibility Challenger held in Germany near Munich. Her second attempt at a backwards marathon was a Guinness Record in a time of 6:27:11 in the Munich Mediamarathon in 2005.
Born in Tyrol, Austria in March 1959, Surasa (born Paula) Mairer has worked for a number of years as a secretary in academic settings – most recently the University in Salzburg. Surasa didn't discover her extraordinary gift for running until she was 28 years old.
In an English translation of an article written in German about her running achievements, Roby Schiltz describes,
…she is a wonderful example how out of a non-runner you can become an ultra runner and this in a completely natural way. As she began running with 28 years already 10 kilometres seemed an insurmountable barrier for her. Only a few years later she was fervently dedicating herself to multi day races. In September 1996 and 1997 she won the 700-Mile-Race (1120 km) and 1999 and 2000 the 1000-Mile-Race (1600 km) on Wards Island, USA. 2001 she ran the world record at the 1300-Mile-Race (2080 km) and thus lowered the 10 year old record of Sandra Barwick from New Zealand by 1 hour 33. In September 2002 she ran the world record in the 700-Mile-Race and over 1000 km. In September 2003 she won again the 1000-Mile-Race. 2004 she went for a "short distance". She participated and won the 4-Day-Race in Prague.
Obviously, when Surasa runs forward her excellence and achievements are no less amazing than her backwards running talent. In 2007 she was the women's winner with 595 miles in the Ten Day Race after a period of five years without running a multiday race. She has in fact won nearly every multiday race she has ever entered in her entire running career.
Last but not least, Surasa kept the tradition alive of a solitary female entrant among a much larger pool of male entrants in the 3100 mile race. 2010 marked her first ever 3100 mile race for 52 days this summer. For the last 13 years, Suprabha Beckjord was the first and only woman who ran the 3100 mile race in a field of male runners. This year Suprabha did not run but visited the runners as a helper. Surasa carried on the tradition as the second woman in the world to ever run the 3100.
She completed 2760 miles by the end of the race, an awesome achievement in conditions of some of the worst heat the East Coast has ever seen this summer.
Surasa is a meditation student of Sri Chinmoy and attributes her running success to her practise of meditation.
View pictures of her taken by me towards the end of the 2010 edition of the race.